Gift Box Bundle
Get our 3 most popular gift boxes in a delicious trio and save!

YOU'RE THE BEST GIFT BOX
We're all deserving of self-indulgence and nothing hits the sweet spot quite like this fruity collection, featuring faves like Cherry Watermelon Crush, Sour Rainbow Bears as well as creative concoctions like our jelly-filled Brain Freeze candies. Do yourself a favor and dig in!
Net Weight: 280g
6 individually wrapped cellos
TREAT YOURSELF GIFT BOX
Do you enjoy watching people's faces light up when opening a gift? Then this sweet and sour mix featuring Vegan Sour Peach Hearts, Pink Lemonade Fizz and Vegan Aloha gummies will deliver on that. And if you purchase this delightful gift for yourself, have a mirror handy, because your face will light up too!
Net Weight: 280g
6 individually wrapped cellos
HAPPY BIRTHDAY GIFT BOX
One year older, one year sweeter. These gummies are for the dreamers, the story-tellers, and the candy-lovers. A collection as colorful as your imagination and as bright as the year ahead.
Blow out those candles and dream on with a selection of gummies like Unicorn Love. Raise a glass! 
Net weight: 280 g
6 individually wrapped cellos
Regular price
$50.97
Sale price
$42.00 CAD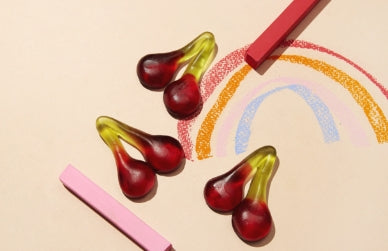 AS SEEN ON INSTAGRAM